You can control your driving behaviors on the road, but you can't control how others drive. When careless, distracted, and otherwise negligent drivers fail to follow the rules of the road, innocent victims suffer. Motor vehicle accident injuries can cause severe, debilitating, and life-altering pain and suffering. If you or someone you know sustained a severe injury in a preventable accident, consult with our Riverside personal injury attorneys at Estey & Bomberger, LLP.
Our Experienced Riverside Auto Accident Attorneys Protect Your Rights
You need attorneys with expert understanding of auto accidents and experience working with insurance companies – lawyers who will advocate on your behalf – legal professionals who know the rules of the court, the critical dates (such as the statute of limitations), and the particular information that needs to be preserved now, while it's fresh in your memory.
Attorneys Stephen Estey, Michael Bomberger and the rest of our talented firm offer the legal knowledge, resources, and network of car accident experts needed to build cases against negligent drivers and greedy insurance companies. We take the time to clarify liability in each case and to hold each responsible party accountable. You deserve an opportunity to move forward with a sense of closure and fair financial support after a serious accident. We have represented thousands of personal injury clients—we put our diligence and knowledge to work, and win millions of dollars in damages. We can help you too!
Riverside Auto with Auto Collision Statistics (2006-2015)
Car with Car Accident Fatality Statistics in Riverside County
The above chart displays the fatality rates in auto with auto accidents during a ten year span, going from 2006 to 2015. Looking at the data from 2008 to 2015, we saw a 21.42% decrease in fatal collisions and a 37.83% decrease in victims killed. There was a large decrease during 2010 with only 13 fatal collisions and 14 victims killed, but we have seen increasing numbers each year since then.
In the chart below, you will find a breakdown of motor vehicle fatalities by state in 2016, including the numbers from California.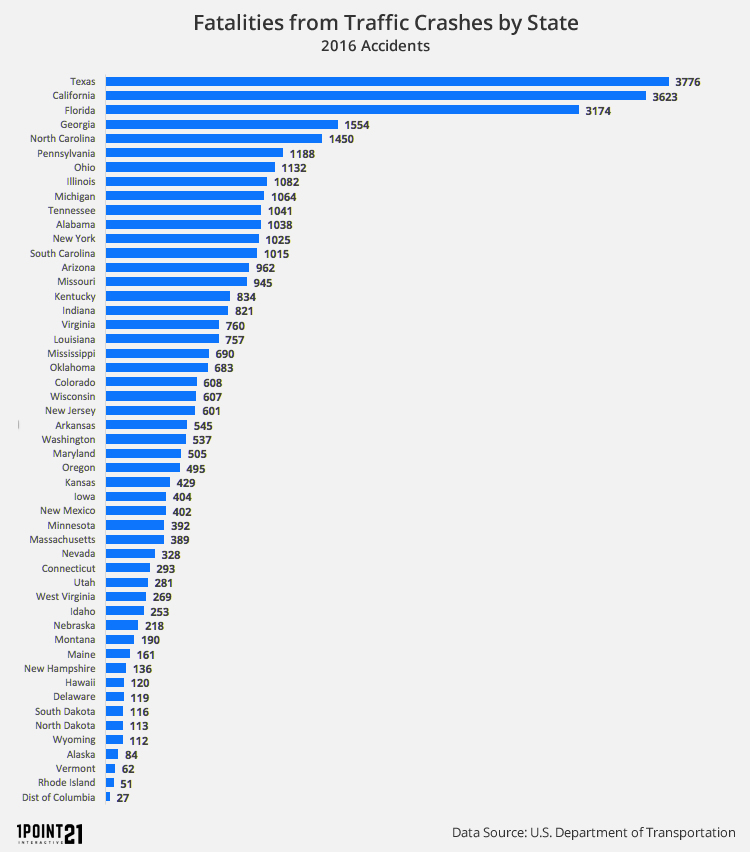 According to the data from the U.S. Department of Transportation, California racked up 2,623 fatalities on the roadways in 2016. They are ranked #2 in the nation for the number of deaths, second to Texas.
What are the Most Common Causes of Auto Accidents?
Auto accidents occur in all over Riverside County, in cities like Riverside, San Bernardino, Moreno Valley, etc. every day, many of them resulting in catastrophic injuries. The most recent information available from the National Highway Traffic Safety Administration indicates 3,176 people died on California roadways in 2015. Drunk driving was involved in 914 fatalities. Across the nation, over a thousand people suffer injuries every day as the result of distracted driving accidents. What people choose to do behind the wheel matters.
Preventable car wrecks almost always include an element of human error. Someone made a mistake and contributed to the incident. Our job is to uncover acts of negligence in each car collision case. We pursue claims against negligent drivers, auto manufacturers, motor carrier companies, and others who cause or contribute to injurious accidents.
What are the top causes for car accidents in Riverside?
The Top 11 Causes for Car collisions are as follows:
1. Distracted Driving
There are several activities that people do while driving that cause car accidents every day. Some of these include texting or talking on their phones, eating, playing with the radio, makeup application, and more. The CHP is trying to crack down on these to help reduce the number of distracted driving accidents. For example, there's a brand new cell phone law starting in early 2017 where drivers can only use one finger to tap or swipe the screen. No holding phone in hands, and phone mounts need to be completely free of the driver's view of the windshield.
2. Drunk Driving or DWI
When a driver chooses to get behind the wheel while under the influence of prescription drugs, illegal drugs, or alcohol, he or she increases the risk of other dangerous driving behaviors. Intoxication alters reaction times, personal judgment, and motor functioning. Per California's driving under the influence (DUI) laws, it's illegal to operate a motor vehicle with any of the following blood alcohol concentration (BAC) percentages:
0.08% or higher – 21 years old or older operating a regular passenger vehicle.
0.04% or higher – Operating a commercial vehicle.
0.01% or higher – Younger than 21 years old.
Statics show that many auto accidents are the result of drunk, or even buzzed driving. It's important to know when enough is enough, and avoid getting behind the wheel if you are under the influence of drugs or alcohol. We pursue claims involving intoxicated drivers to the full extent of the law.
For more information about drunk driving, DWI or DUI related accidents, please visit our page all about drunk driving accidents.
3. Speeding
On the major highways in California the maximum speed limit that you can travel is 65 mph, unless otherwise posted. There are many reasons why people choose to ignore the posted speed limits, like running late to work, or thinking that they won't get caught. Speeding is a major issue in California, and in 2015, speeding was a factor in 27 percent of motor vehicle crash deaths.
4. Reckless Driving
Some drivers disobey the rules of the road. They speed, swerve in and out of lanes, fail to use their blinkers, and run traffic lights and stop signs. Any driver who negligently or purposefully fails to follow the rules of the road increases the risk of an accident.
5. Weather
In places like Southern California that doesn't receive a lot of severe weather, like rain storms, weather can be a big contributor for auto accidents. Responsible drivers should adhere to extra caution during bad weather. Decrease speed and increasing distance from other vehicles can help you keep safe. Also avoid any sudden brake use or lane changes.
6. Running Yellow/Red Lights
Many drivers erroneously think that yellow lights mean "hurry up and make the light". This is not the case, and is in place to warn that the light is going to turn red soon. According to California law, every driver is required to stop at a yellow light unless they are too close to the intersection to stop safely. According to a Driversedguru.com rule of thumb, if you are 100 feet or less from the intersection, you have passed the "point of no return" and cannot stop safely before the intersection.
7. Improper Car Maintenance
It is important to ensure your safety, as well as the safety of the other people on the road, to make sure that your vehicle is maintained properly to ensure safety. This includes keeping your tires properly inflated, engine checked, oil changed, brakes and break pads in good condition, etc.
8. Car Defects
Many cars and motor vehicles come off the assembly lines with flaws known as defects. And these could either be from a design flaw or a manufacturing flaw, like human error, for example. Unfortunately many of these defects are found out too late, resulting in vehicle accidents. If you are injured in a car wreck and suspect that a car defect is responsible, an accident attorney could help win compensation for damages from the vehicle manufacturers.
9. Inexperienced or Teenage Drivers
In 2014, 2,270 teens in the United States ages 16–19 were killed and 221,313 were treated in emergency departments for injuries suffered in motor vehicle crashes. Participating in driving safety courses, and taking the time to read and understand the state's driving manual can greatly increase the safety amongst teen and/or novice drivers.
10. Construction Sites
Roadways around areas of construction could be full of hazards, and complicated for drivers, with requirements of reduced speed, cone navigation, and potential road hazards. Because of the confusion, there are often car accidents located in or near construction zones.
11. Driving at Night
Night time driving can potentially be dangerous, as visibility is limited, and especially at late night hours, driver fatigue could play a negative part. According to national statistics, approximately 49% of all fatal crashes occur at night.
What do I Do After a Car Accident?
After an auto accident, it's important to first seek medical attention, just to be on the safe side. Get a doctor check-up as soon as possible after a serious accident. Not everyone who sustains serious and permanent injuries will have the obvious types—dismemberment, skull and facial fractures and abrasions, damages to eyes. Some injuries do not even hurt right away. An examination by a medical professional is needed to determine if you have been injured, and the extent of the injuries. Auto accidents can cause soft tissue injuries, internal injuries, and traumatic brain injuries. Even damage to your back, neck, shoulders, and knees might not cause immediate discomfort. It is essential to seek a professional medical evaluation following a serious accident. If you have been injured, you want to know now, not later.
Second, you should take steps to protect your legal rights. You should take pictures of the scene, accept medical assistance, and preserve as much evidence as possible. Collect the information of everyone at the scene including officers, emergency responders, other drivers, passengers, and witnesses.
California operates under a pure comparative negligence rule, meaning an injured individual can pursue damages if a defendant bears any percentage of fault. We encourage all accident victims to reach out to an attorney as soon as possible to protect evidence and begin the legal process.
Advocates for Maximum Compensation
The outcome of your personal injury claim can affect the rest of your life. You may need to recover medical expenses, lost wages, and receive awards for pain and suffering, and future care. Our goal is to obtain the maximum amount of compensation you are entitled to. We have more than 70 years of combined experience doing exactly that. The auto accident lawyers at Estey & Bomberger, LLP work with insurance companies and government agencies to ensure clients receive maximum compensation for their injuries. In the past 12 months alone, we have recovered more than $25 million on behalf of clients with serious injuries in California.
Our Riverside Car Accident Lawyers Offer Free Consultations
At Estey & Bomberger, LLP, we have represented thousands of personal injury clients—we put our diligence and knowledge to work, and win millions of dollars in damages for clients. Our team of accident attorneys can help you find qualified medical support, represent you in front of insurance representatives, and pursue any legal claim on your behalf. For a free, private case evaluation, reach out to our Riverside office at 951-543-9020. If you cannot travel, we will arrange to meet you at a medical facility or at your home.
We are not just award-winning trial lawyers, we are a team of compassionate individuals who will fight for your rights—we do not settle cases for less than you need and deserve. If you choose to be represented by Estey & Bomberger, LLP you pay no fees until we win your case and receive your financial award. The consultation and resulting honest opinion are free in any event.
Call us in Riverside, CA today! 951-543-9020
Client Testimonial:
"I had never had to file an injury claim before, and I engaged the services of Estey & Bomberger. I'm certainly glad I did. Estey & Bomberger took care of absolutely everything. I had to do nothing. Thanks to the accurate and thorough work or everyone there, my claim resulted in a fully satisfactory settlement. I recommend Estey & Bomberger very highly."
Dr. Martin Fricke, PHD